Fresh from exhibiting at June's ever-popular Hearth & Home Exhibition, European stove specialists Eurostove are proud to announce that they have scooped up first prize in the 'Best Stove Over 5kW' category for the new Hergom freestanding Glance stove. The judges commented: "The Hergom Glance Wide has a fabulous design and exceptional build quality. It is a product that offers retailers something very different to what has been seen before in this category."
The new Hergom Glance woodburning stove also retains heat for an extended time, even after the fire dies out, thanks to its large mass. Providing the perfect focal point for a cosy living room or open-plan space, the Glance convection stove also comes with cast iron side grills for a glance of the flames inside (hence the name) – great for all-round comfort and cosiness. Additional features include a unique 'push to close' self-closing door instead of the traditional handle option, contemporary styling and closed combustion.
Not only did Eurostove win first prize in this highly competitive category but they were also finalists in three other awards, too.
The new Ashcott stove was a finalist in the "Wood Log or Multi-Fuel Appliance up to 5kW of the Year 2018" category. Available in a number of options, it has been updated and comes as a pedestal or floor standing model, or with a wood-store design and is also offered in a painted ivory finish.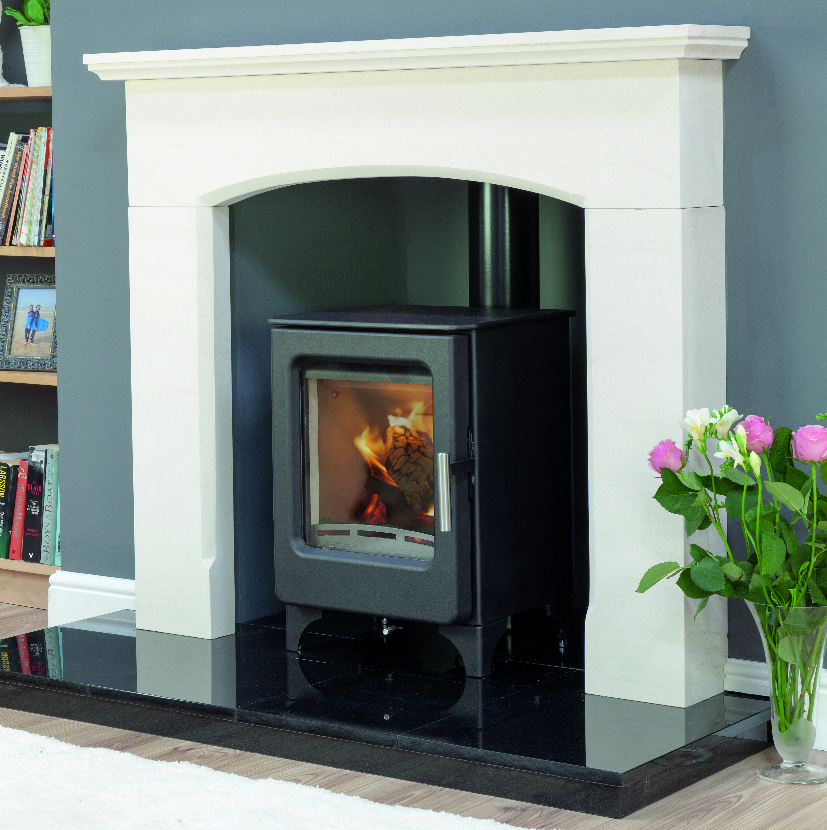 Judges were also particularly impressed with the new Queensbury 48 inch Portuguese Limestone fire surround with its uniform colour and join detail, and awarded it "FINALIST in the category Fireplace Mantel or Surround of the Year 2018." (Pictured with Christon 550 Inset)
In the "Gas Appliance of the Year 2018" category, the new Nestor-Martin THS 15 gas stove was commended for its unique rotating body.
"This year's Hearth & Home Show was a fantastic opportunity for us," says Chris Baines, managing director of Eurostove. "We received a huge amount of visitors and trade professionals to our stand, who were keen to see our latest product launches, innovations and demonstrations. There was a lot of interest in our new eco design stoves and having won the 'Best Stove Under 5kW' in 2016, we are delighted to have now also won the award for 'Best Stove Over 5kW' this year."